Subsea Hydraulic Power Unit
The cost and time saving SHPU
Habu Subsea's Subsea Hydraulic Power Unit or SHPU, is easy to install and maintain because it is based on new technology with standard components and interfaces. It is fully compatible with conventional XMTs and SCMs.
Our SHPU can reduce cost by as much as 65%. This because of the reduced CAPEX for procurement and installation of control umbilical and the cost and handling advantages due to the umbilical's compact size.
The SHPU can be reused and is easy to adapt to new sites and projects because of our use of standard components.
Avoid replacing existing umbilical (brownfield)
Save umbilical cost in long step-outs (greenfield)
Reduce topside space, size and weight (remove topside HPU)
Remove friction losses in umbilical
Can be installed with new type slim umbilical
Can fill under water, without pulling unit to the surface
Designed for rig and vessel IMR-based operations providing maximum operational flexibility
Typical subsea scope includes:
Control DHSVs
Control XT valves
Life time ectensions for umbilicals
Hydrate removal
Wax removal
Intervention work

LWI – riserless
WO – riser

Exploration to production
Production
Pressure testing
P&A
Flexible use
Habu Subsea's Subsea Hydraulic Power Unit is a significantly cost saving alternative to umbilical replacement. It can be used as a repair unit for hydraulic supply failures, handling low pressure and high pressure hydraulic fluid and chemical fluids.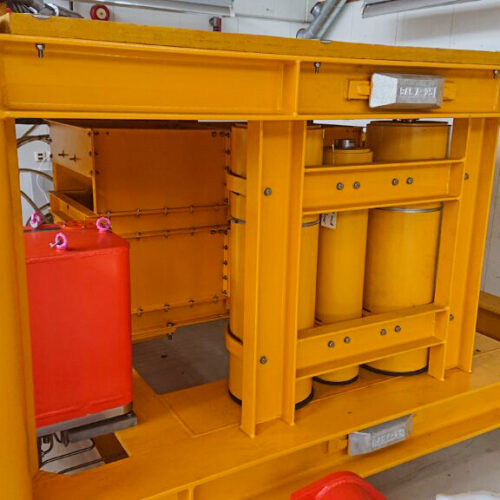 It can be installed and utilized for permanent and temporary subsea installations, handling functions as testing of XTs and other subsea equipment, or as hydraulic pressure extender to new and existing installations. Another application is as a building block in new hydraulic infrastructures, especially for long step-outs where it will contribute to reduced umbilical size and cost.
The Habu Subsea SHPU can also be fitted with batteries to reduce peak power consumption.
The SHPU is built according to these standards:
API 17Q Qualification of Subsea Equipment
ISO 13628-1 Petroleum and natural gas industries, design and operation of subsea production systems, general requirements and recommendations
ISO 13628-4 Petroleum and natural gas industries, design and operation of subsea production systems
ISO 13628-6 Petroleum and natural gas industries, design and operation of subsea production systems, design and operation of subsea controls
ISO 13628-7 Petroleum and natural gas industries, design and operation of subsea production systems, design and operation of subsea controls
EEC9126 Software engineering – product quality
NORSOK Z-016 Regularity management & reliability technology
IEC-TC57 Power systems management and associated information exchange
NORSOK Z-015 Temporary equipment
NORSOK Z-016 Regularity management & reliability technology