SEAWOCS 12: A X-mas tree/well first aid kit from installation to production
Habu Subsea proudly offers the SEAWOCS. A subsea controls and intervention light system closed-loop subsea controls unit complete with redundant subsea pumps, control modules and hydraulic reservoir. 
SEAWOCS is a modular and cost-efficient subsea access device for well intervention and workover systems, perfectly suited to provide intervention workover control (IWOC) services during initial subsea production xmas tree (XT) commissioning, intervention or plug and abandonment (P&A) operations. The XT interface is universal and can be configured offshore to connect to any type of XT.
SEAWOCS reduces the topside footprint and increases safety while minimizing personnel onboard (POB). Compared to other IWOC control and intervention systems, the additional applications for SEAWOCS are numerous. SEAWOCS can provide much needed well controls as a subsea hydraulic pressure unit (HPU), back up for XT control during remediation or long-term replacement applications, in the event of damaged control umbilicals or SEMs.
SEAWOCS may also be used to control Light Well Intervention Systems, BOP systems or simply act as a universal tool for evaluating and monitoring XTs prior to using SEAWOCS for potential commissioning or decommissioning. SEAWOCS is flexible enough to be run from service vessels or rigs. It can be temporarily deployed or permanently installed without any modification or interfaces. Keep your wells flowing with quick response from Habu Subsea.
SEAWOCS 12 with its new design is a Habu Subsea Product. Global IP rights 2011.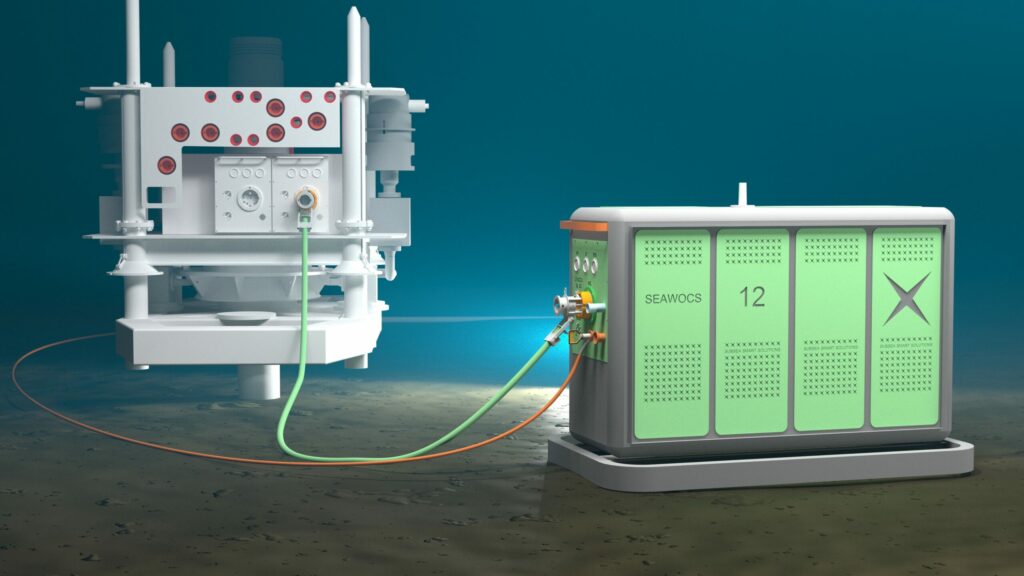 Focus on HSE:
We move high pressure equipment subsea, for a safer way to control a well. There is a huge HSE effect when all components are moved from topside to seabed in one unit. This requires platforms and less people offshore which also lowers the all over carbon footprint.
SEAWOCS handles eXT, standard XT, WO operations, LWI, open plugs.
The SEAWOCS unit covers IWOCS, topside HPUs, ROV skids and umbilical problems.
SEAWOCS 12 features and benefits
Features
Simple rig interface deployed from rig equipment
Integrates with 5K, 10K or 15K equipment
Compact, modular reconfigurable design
3000+m water depth rated
Double blockshut-in system
Seal test lines with logging possibilities
Runs on all control fluids in scalable reservoirs
Benefits
Quick mobilization/ demobilization
Minimum of rig/vessel interfaces
Adaptable to past, current and future subsea XTs
Full redundant electrical controls
Minimizes operations HSE risk
Limited topside footprint and personnel required to operate
Easy adaptability to customer-specific requirements
Built on field-proven technology platform with qualified component
Operating Limits
All below mentioned parameters can be customized to client's spec:
Maximum LP working pressure (Bar)
Maximum HP working pressure (Bar)
Maximum control output pressure (Bar)
Service temperature, (°C)
Output lines
Chemical injection line
Pump Rate (lpm)
Physicals
Overall dimensions (m)
Approximate weight (kg)
Note:
These ratings and sizes are guidelines only. Individual equipment specifications are possible.
Patent